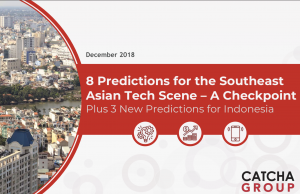 Earlier this year (Feb 2018), we released our 8 predictions for the SEA tech scene over the next 24 months (i.e. till early 2020). Of the 8 predictions, more than half have already come true or are on track.
Our updated report, released in conjunction with our premier tech conference, Wild Digital Indonesia 2018, reviews these predictions together with 3 new predictions for Indonesia.
To receive a copy of our report, please provide us with your details below. A copy of the report will be sent to your email inbox.
For any enquiries, please contact us at enquiries@catchagroup.com.
8 Predictions for the Southeast Asian Tech Scene – A Checkpoint Plus 3 New Predictions for Indonesia
[ninja_form id=2]